Miller Landing Page
Elementorism Miller is a Landing Page For Elementor being distributed by CSS Igniter. Elementorism Miller ready to be imported with the click of a button.
To import this Landing Page, you need Elementor Plugin.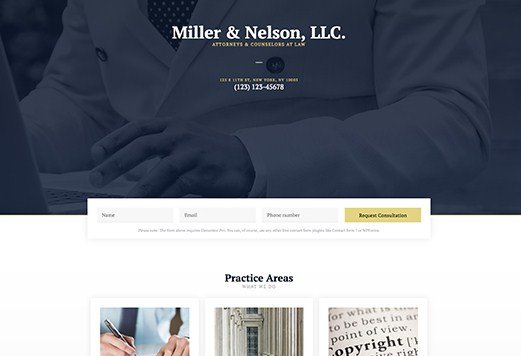 Elementorism Miller Landing Page Features :
Use in unlimited projects
100% built using Elementor modules
No coding involved
And More…
Corporate Law
Corporate Law (corporations law, company law) deals with the formation and operations of corporations and is related to commercial and contract law.
Federal Courts
The federal judiciary of the United States is one of the three co-equal branches of the federal government of the United States organized under the USConstitution.
Intellectual Property
It refers to creations of the intellect for which a monopoly is assigned to designated owners by law.Intellectual property rights are the protections granted to the creators of IP
THE PEOPLE BEHIND MILLER & NELSON, LLC.
The term was also used in England and Wales for lawyers who practised in the common law courts. They were officers of the courts and were under judicial supervision. Solicitors, those lawyers who practised in the courts of equity, were considered to be more respectable than attorneys and by the mid-19th century many attorneys were calling themselves solicitors. In 1873, the Supreme Court of Judicature Act abolished the term "attorney", and attorneys were redesignated solicitors.Attorneys did not generally actually appear as advocates in the higher courts, a role reserved (as it still usually is) for barristers.
In both Northern Ireland and the Republic of Ireland, various pre-partition statutes dealing with the whole of Ireland and governing court structures, procedures, and court officers remain in force, such as the Supreme Court of Judicature Act (Ireland) 1877.