Mystic Landing Page
Yoga (/ˈjoʊɡə/; Sanskrit, योग) is a group of physical, mental, and spiritual practices or disciplines which originated in ancient India. There is a broad variety of Yoga schools, practices, and goals in Hinduism, Buddhism, and Jainism. Among the most well-known types of yoga are Hatha yoga and Rāja yoga.
Elementorism Mystic is a Landing Page For Elementor being distributed by CSS Igniter. Elementorism Mystic ready to be imported with the click of a button.
To import this Landing Page, you need Elementor Plugin.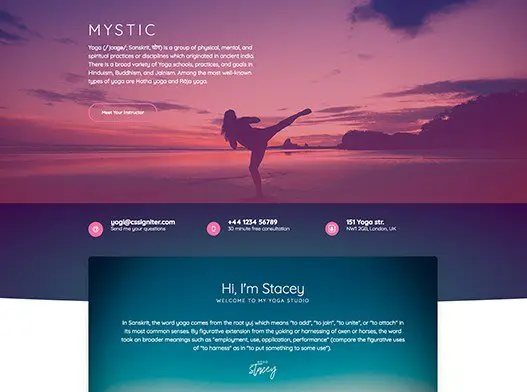 Elementorism Mystic Landing Page Features :
Use in unlimited projects
100% built using Elementor modules
No coding involved
And More…