Monaco Landing Page
Elementorism Monaco is a Landing Page For Elementor being distributed by CSS Igniter. Elementorism Monaco ready to be imported with the click of a button.
To import this Landing Page, you need Elementor Plugin.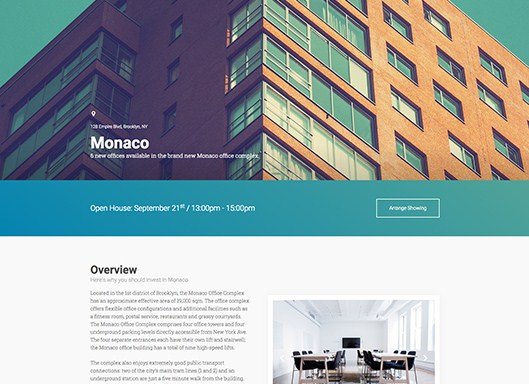 Elementorism Monaco Landing Page Features :
Use in unlimited projects
100% built using Elementor modules
No coding involved
And More…
Here's why you should invest in Monaco
Located in the 1st district of Brooklyn, the Monaco Office Complex has an approximate effective area of 19,000 sqm. The office complex offers flexible office configurations and additional facilities such as a fitness room, postal service, restaurants and grassy courtyards. The Monaco Office Complex comprises four office towers and four underground parking levels directly accessible from New York Ave. The four separate entrances each have their own lift and stairwell; the Monaco office building has a total of nine high-speed lifts.
The complex also enjoys extremely good public transport connections: two of the city's main tram lines (1 and 2) and an underground station are just a five minute walk from the building. The infrastructure around the office building is also very good, with shops and restaurants nearby. The Monaco office building is just five minutes from the popular Brooklyn square and the city's western rail station.